IICRC Certified Carpet Cleaning
Vanderberg Clean offers professional residential and commercial carpet cleaning as well as maintenance programs. All of our carpet cleaning technicians are IICRC certified, the leading certification of the cleaning and restoration industry. Vanderberg Clean follows a process that provides better results and higher quality. Being IICRC Certified means that our technicians will keep your carpet warranty in place, while other companies who don't have technicians that are certified, could void the warranty.
Residential Carpet Cleaning
Now more then ever your home is at the center of your life, the place you enjoy time with your family and friends. Children, as well as pets, spend a great amount of time on the floor, making carpet cleaning and maintenance vital. Carpet is one of the most important investments you can make in your home. Keeping it in top condition protects that investment.  We recomend cleaning your carpets every 12 months and more often for heavily trafficked areas.
Our Team Can Help With:
Hot Water Extraction (Steam Cleaning)
Carpet Protections
Upholstery Cleaning
Fine Rug Cleaning
Pet Stain Cleaning and Removal
Spot & Spill Cleaning
Tile & Grout Cleaning
and much more
When you need us our IICRC Certified Team is ready to help you with all of your carpet cleaning needs.
Commercial Carpet Cleaning
Carpet Cleaning is one of the best ways to improve the indoor environment and extend the life of your flooring.   Our approach is to provide quality cleaning and maintain and restore flooring.  Proper carpet cleaning extends the life of the carpet by removing dirt that would wear it out from grinding foot traffic and clean carpets projects a professional image. Our Team service businesses all of your facility carpet and flooring needs.
Our Team Can Help Your Company With:
How Water Extraction (Steam Cleaning)
Encapsulation Cleaning
Commercial Upholstery Cleaning
Carpet Protections
Traffic Lane and Carpet Restoration Cleaning
Tile and Grout Cleaning
Carpet & Tile Degreasing
and much more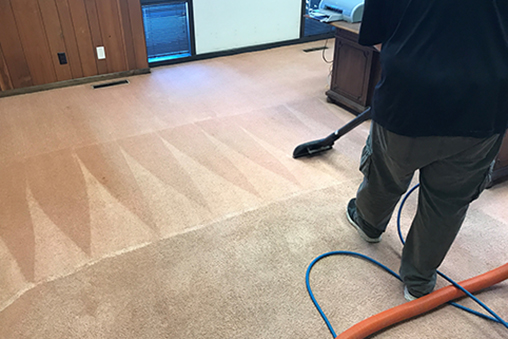 The Vanderberg Clean Carpet Cleaning Process
Preliminary inspection of your carpets to determine the best cleaning method
Professional vacuuming
Pre-treatment of spots and stains
Pre-application of cleaning products to loosen ground-in soil
Rake carpet to get full fiber application of cleaning solutions
Steam extract carpet with clear hot water
Post-treatment of any residual stains
Carpet grooming for efficient drying and a uniform appearance
Place pads under furniture legs to protect the carpet while it dries
Application of Carpet protection (optional at additional cost)
Final inspection of carpet with you to ensure your complete satisfaction