We understand that Janitorial Services are one of your company's most important investments for both the appearance of your company as well as the health of you and your customers. At Vanderberg Clean, we work hard to create cleaning programs that fit the needs of your company. Our goal every day is to make you shine and allow you to focus on the important work that you and your team do while we take care of the cleaning.
Systems For Cleaning:
We have built systems designed for a consistent quality cleaning experience for you and your team every day.
Colors of Clean: Is our program to stop cross contamination in its tracks.  We use colors dedicated to Healthcare Sanitation, general cleaning, windows, kitchens, restrooms flushables and specialized project cleaning.  All of this with a focus on keeping you safe and healthy.
Restroom Cleaning: We know that your bathroom is a focal point of every facility.  Filling paper and soap is just one few the many important steps that need to be taken to ensure quality. Our six step process is designed for consistently clean results.
Vacuuming: When it comes to vacuuming details matter and that is why  we feature a vacuuming tool called the Sidewinder with a ProTeam backpack vacuum.  The Sidewinder is a revolutionary vacuum tool with a unique swivel design that allows for edge, wall and floor cleaning. The product can triple productivity, reduce back strain and the systems works well in small-office and open areas.
Dusting: We know that dusting is a key area in every cleaning program, we have several tools available to ensure we are meeting the needs of our customers and all of our programs are individualized for your needs.
Security:  We take security and safety seriously time training is key to this.  We train our teams on proper locking of doorways and use of alarms so you can feel safe knowing we are ready.  We also train our team to keep on the lookout for anything that might out of the ordinary and help them know how to handle these situations.
Customer Support: When you need us we are available.  Our customers of access to our leadership team 24 hours a day 365 days a year by phone, email and now text we are here to support you.
PROACTIVE CLEANING- How we can help you with COVID-19
How we can help you with COVID-19:
You have a business to run and we are here to help in these times of uncertainty. There are measures that you can take in partnership with Vanderberg Clean to help you and your team feel safer. As our world changes with new challenges from Covid-19, we are learning more every day and we are ready to help you properly clean and safely sanitize for the novel coronavirus (SARS-COV-2). Our team can help you develop a cleaning plan as your company navigates these new challenges. We have trained technicians ready for proactive cleaning to help reduce the viral load within your facility. We use a step by step process with an EPA N listed Register Disinfectant so you can feel assured you are receiving results. What is the next step?
Assessment- Give us a call to start your assessment and plan to be proactive
Support- We are here to answer all your questions
Approval- Once approved we will schedule service & begin implementation
Partnership- We will implement your customized proactive cleaning plan
We have experience a variety of industries. Some of the industries or companies we provides services for include:
Medical 
Financial Services
Churches 
Auto Dealerships
Manufacturing 
Office and Commercial Buildings
Large Retail Stores
Warehouses 
Banks and Credit Unions 
Agricultural Facility 
Accounting Firms 
Law offices 
Surgical Centers 
Dental Clinics 
And more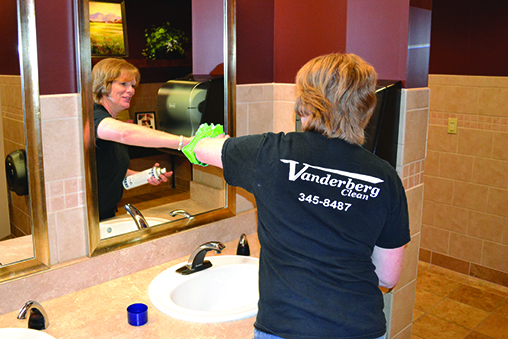 Our cleaning programs and chemicals are chosen to be as low impact as possible. Vanderberg Clean is able to work with you to meet the Us Green Building Council LEED certification requirements. Our goal is to use sustainable products with reduced smells (VOC's) to reduce the impact of chemicals on the indoor air environment and our world.